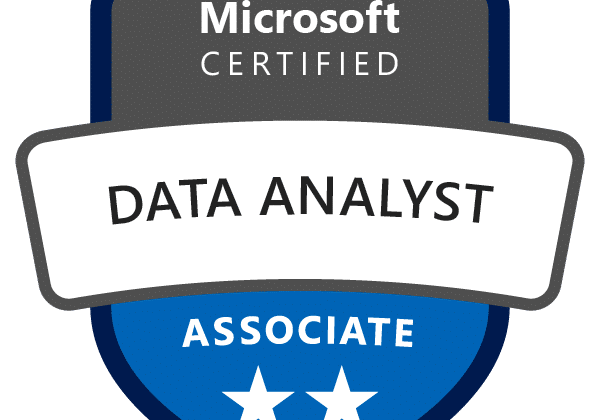 First of all, congrats to me on my certification eh? Thank you, thank you.
So in this article, I will be sharing my exam experience, tips for preparation, the whole shebang.
To begin with, the 'Exam DA-100: Analyzing Data with Microsoft Power BI' is a Microsoft certification that validates the skills & knowledge required to enable businesses maximize the value of their data assets using Microsoft Power BI.
Basically, if you are a data analyst who has been making use of Power BI & you'd like to get your skills officially validated, this is the exam for you. For more comprehensive info on the exam, click here.
Now to my story…
I'd always known I would take this exam sometime, but the 'time' is what I wasn't sure of.
I just kept it somewhere in my mind because a part of me was scared of flunking, so avoidance was the only way out.
It wasn't until I got a stern push from a friend that I was like "yep, it's finally time."
Preparation
Experience: Would I be exaggerating if I said I'd been preparing for this exam ever since I started learning to use Power BI? I don't think so.What I mean is everything I've learned so far counts as experience which aided in acing the exam.Every time you use the BI tool, you become more familiar with its features, improve & learn. And that's basically what you're trying to prove with the certification; that you're skilled at this. So work with the tool, be comfortable with it. This isn't enough though…

Studying helped a whole lot. See, the questions in the exam are really tricky. Tricky but relatively easy.

And that's where the

study resource

provided in the learning path comes in.Most of the answers are embedded in there but you wouldn't know unless you read in between the lines. Over & over again.I read the resource more than 3 times, & I still missed some answers because of the way the questions were posed, I wasn't sure.

So it's easy to miss the obvious, you have to read to remember & understand & if you have to study the resource more than 3 times, please do.
I enrolled in a bootcamp. The bootcamp was to teach participants how to Analyze data with Power BI and to prepare them for the exam so it was worth it.The curriculum followed what's in the study guide

thus learning was precise.The class activities helped me understand better what it is I was reading. 

So if you find a similar course somewhere & you can afford it, don't hesitate. There are tons online; Udemy for example.Or you can check the one

linked

& save a spot for the next batch. You'll find it useful.
I took a practice/mock exam before going to sit for the real thing.This one is so essential if you want to be confident enough to take the exam. It's kind of like going to survey an apartment you want to buy before actually buying it.I failed my first practice test, which broke my heart a bit because I thought that I was prepared enough to go into the exam room. Apparently not.Apart from the confusing questions, the exam interface was also strange; the mock test mimics the main exam setting so you have a feel of what it's like to do the main one.

My grades improved when I retook the mock though, because now I don't have to waste time trying to understand how to answer a question.

I also got to review my wrong answers which I learned from. So I'd say this is a useful preparation step.

And you might be lucky if the mock test comes with your course/bootcamp package because these practice tests aren't free.

I did mine after I completed the bootcamp I mentioned earlier & I didn't have to pay for the test because it was already catered for.
Eat! I didn't eat before leaving for the exam center because I was late but before I went into the exam room, I made sure to eat something.Honestly, I feel like if I hadn't gotten that snack, my scores would've been lesser.It's a 2 & half hour exam. You definitely need food in your system.
Exam
The exam contained 56 questions in total.
The questions are divided into 3 Sections
First section: 4 questions (all pertaining to a single case study). Once completed, you can't go back to this section to modify your answers.
Second: 48 questions. Also, once completed & you hit submit, can't go back to review answers.
Third section: 4 questions (all pertaining to a single case study). Same principle as the 2 above.
Exam Pattern

MCQs with 1 correct answer

MCQs with 2 correct answers

Arrange the steps in order (e.g. "how do you open a Power BI desktop & import data" step by step)

Complete the DAX.

Say Yes or No.

Select from Dropdown.

The exam is graded over 1000. You need at least 700 marks to be eligible for a badge.
Time to complete: 180 mins.
NOTE: You're not allowed to take anything into the exam room, not a writing pad, not a bottle of water. Only yourself & your ID
FAQs
Must I write the exam in an exam center?
Ans:

No. There's an option to write it in your home/office. Just be sure to have a strong internet connection throughout the exam period, no noise or interruption, no objects in your surroundings & steady power supply. If these aren't sure? Go to an exam center.
How do I find an exam center near me?
Ans: a)

Just type in Google, "Microsoft exam centers in [your state]".

b)

If you're trying to register yourself, Microsoft shows a list of centers available in your area with their timing.
How much does the exam cost?
Ans:

$80 in Nigeria at the time of writing. It differs by country.
For more info on the pricing & scheduling, check here
Final Note: You may never be 100% ready, but you need to take it anyway.
Don't fret, you'll ace yours too!
If you have any more questions, shoot me an inbox via my LinkedIn attached in my profile below.
Join is for the next Power BI Bootcamp, where we teach using the DA100 Power BI Certification curriculum.